Next time you nuzzle up to your wife or girlfriend and she tells you that she's not in the mood, you can be confident of one thing—she's lying. Oh she's definitely horny, or she could be rather quickly. How do I know this? Thanks to groundbreaking research by sexologist Meredith Chivers, we now know that female sexual arousal can be achieved in under two minutes. Amazing, it takes me longer than that just find the vibrator.
Chivers played 90 second porno clips for women and then asked them to rate their arousal. Since women are liars and can't be trusted she also used a plethysmograph to precisely gauge their reactions. In case you've never heard of a plethysmograph, it's a device that can measure blood flow in tissue. Guess where the probe goes. She then showed her subjects every conceivable variety of porn: guy on girl, girl on girl, guy on guy, girl on self, guy on self and even some wildlife footage. Which clips spun the needles on the plethysmograph? All of them. It didn't matter if the test subjects were gay, straight or bisexual, everything women watched made them tingle. Even a clip of rutting jungle monkeys turned them on. So when your partner is not in the mood ask her to watch a short sex video. I hear there are abundant free samples on the Internet. If she tells you she's not into porn, she's lying, but that's not the point, you can watch the National Geographic channel instead because if it's on Nat Geo, it's not porn.
Guess how the liars responded when asked what excited them the most. They lied. They reported that they were aroused by viewing acts that corresponded with their sexual orientation. It is possible, however unlikely, that the women were telling the truth and that there was a problem with the test equipment. A design flaw in the plethysmograph could allow alternating electrical current to leak from power supply and send a 60 hertz hum into the test probe.
Similar tests on men, using a different sensor of course, revealed, contrary to popular misconceptions, that men are paragons of truth. They know what they like and they express their desires honestly. Gay men prefer gay porn and the only thing straight men like more than heterosexual porn is watching lesbians go at it.
These findings are intriguing but so far unconfirmed. Until the results can be replicated by other researches I'd advise against using monkey porn during foreplay in a nonclinical setting. I don't know if I can wait for further studies, but maybe I don't have to. I'm a man of science. I have a degree in physics. I could conduct my own studies. The test equipment doesn't seem all that complicated. All I need is a big screen TV with an Internet connection, a plethysmograph and a La-Z-Boy with stirrups. Kellie shouldn't mind if I convert our living room into a working laboratory. We never use it anyway.
--------------------------------------------------------------------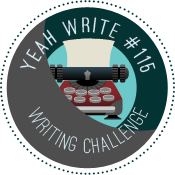 Today's post is based on the book What Do Women Want?: Adventures In The Science Of Female Desire by
Daniel Bergner. I'm only on chapter three so there will likely be a few more posts on this topic.
I'm sharing today's post with the fine bloggers and writers at Year Write.