Sharks Cove on Oahu
courtesy of TripAdvisor
You wouldn't have known it by looking at me, but I was miserable. Instead of going home to my wife and children after a day of working on the ship, I spent a couple of hours at the gym to avoid returning to my empty apartment. Each night I'd drink a bottle of wine and numb myself to sleep. In the morning I would wake up and repeat the same lonely routine all over again. Eight months had passed since I separated from my wife. Tomorrow I would be appearing before the family court judge for the last time. My divorce would be final, dropping a painful milestone on an unhappy period in my life. Rather than picking up the bottle again, I grabbed a towel and headed down to the hot tub.
A bikini clad woman sat on the edge of the hot tub, watching her young daughter swim in the adjacent pool. I didn't see an engagement or wedding ring. Some people see those bands as

mere baubles; I'm not one of them.
I can't recall how the conversation started, but we eventually got around to talking about my impending divorce. She asked me if I was going to celebrate. I hadn't thought about my ordeal as something to celebrate, but since my confidence was starting to swell, I asked her if she would like to join me for drinks after the legal proceedings and help me consummate the end of my marriage.
Loser! That's what she must have been thinking because she promptly rejected my proposal. I'm not easily dissuaded; I just had to find another approach. Since I wanted to see her wearing her current outfit again, I suggested a weekend beach date with our children. She accepted
immediately
.
Kids are date bait when fishing for single moms.
On Saturday morning, we loaded our children into the back of my Diamante and headed out to Sharks Cove, one of the best snorkeling spots on Oahu's North Shore. We were about halfway to our destination when she announced that we had to stop so she could buy a bathing suit. What sort of woman goes on a beach date but forgets to wear a
bathing suit? This should have been an early indicator that Kellie was somehow different than most women, but I missed that signal. What I didn't miss was that her bathing suit didn't fit her at all, frequently uncovering her assets. The date was much more than the peep show; we talked non-stop and our kids got along well. It was a great day.
In one week, my life went from misery to joy. I no longer needed alcohol to induce sleep, the emptiness in my apartment was filled with anticipation, and the smile on my face finally reflected how I felt inside. We've been together for 18 years.
-------------------------------------------------------------------------------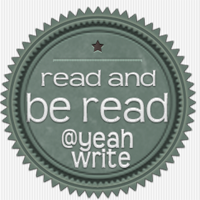 I'm participating in the yeah write #68 summer challenge. Please visit yeah write and to read some fine writing by a fantastic group of bloggers.